Quebecer Concordancer Lexiqum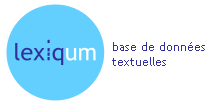 The textual database Lexiqum was created thanks to the combined efforts from the government of Québec's Secrétariat à la politique linguistiqueand from the Université de Montréal. Created as an aid for research in the field of linguistics, Lexiqum is used mostly to study lexical coocurrence and the syntactic combination of various expressions. Among other uses, it allows looking up occurrences of a given word and view its actual context, when querying various corpora (Presse canadienne-française, Interface, Leméac, La Presse et Université de Montréal).
These corpora comprise articles published in newspapers or periodicals in French (Le Devoir, La Presse, Le Soleil, Le Droit, Voir et L'Actualité), scientific texts from the Actfas' Interface magazine (now called Découvrir), literary texts from Leméac (Eds.) and institutional texts from the Université de Montréal. The complete corpus currently counts 95.1 million words.
The Rali has made Lexiqum accessible on the Web here.
Lexiqum is also integrated to the search engine for the Réseau des corpus lexicaux québécois. The search engine can be queried on the site of the Secrétariat à la politique linguistique du Québec.